It's difficult not to love animals, isn't it? With so many species living alongside us no matter where we live, coexisting with other creatures of nature is for many part and parcel of everyday life. For those animal addicts that can't quite get enough Animalia in their everyday life however or don't have time to visit one of the UK's fantastic zoos or wildlife parks, there are some pc and mobile games for your Android or iOS to fill your day with more creatures than you could ever wish for.
PC Zoo Games
Planet Zoo
What can we say about Planet Zoo, other than Wow! This gorgeous looking game that can be purchased for your PC allows you to build a vast wildlife park in the wilderness around many parts of the world.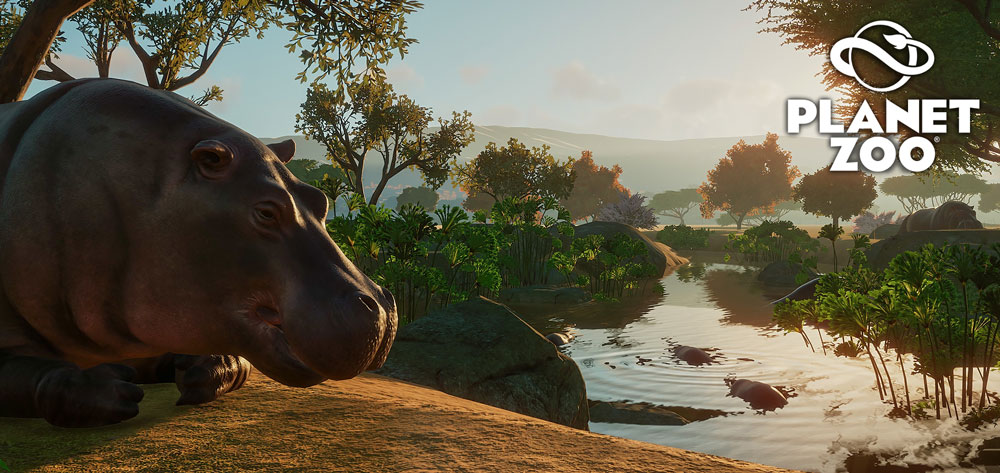 Bringing a more humane feel to zoos and animals we appreciate how the game that you can download at www.planetzoogame.com/buy is less of a shoe boxing building sim where you put animals in tiny cages or between concrete walls and more of a safari adventure where you get to design you own huge park that mimics animals natural habitats. Planet Zoo is anything but some of the more rudamentary top down city building sims you can find here www.buildinggame.net or even the well polished City Skylines that managed to steal the show from EA's original Sim City series.
Unlike said standard building sims, Planet Zoo is as much an educational game as a fun filled management title. Each animal has it's own unique behaves that matches those in real life and as the gamer builds more habitats and researches more species, they come to appreciate just how animals need their own natural space in the world to flourish. This game must have been built by a concientious group of individuals because the game's spirit is putting conservation first and the enjoyment of visitors (while still important to your success in the game) second.
Visit Website: www.planetzoogame.com
Phone Zoo Games
The app stores for Google and Apple are crawling with free-to-play games, but both Wonder Zoo and Disco Zoo are apps of this type that will cater to those with a particular penchant for both animals and apps, specifically the zoo-management environment where you get to look after animals in a self-managed setting.
Wonder Zoo and Disco Zoo: Two fun filled zoo-sim like games for animal lovers
Which One for Zoo Simulation?
Zoo Simulation may sound like a very niche genre for the general gamer, but it's the perfect style of game for lovers of animals to get their daily fix. It would be inaccurate to say that the App Store and Google Play are teeming with zoo simulators – high quality ones, anyway – but among the substantial lot of free-to-play management titles are Wonder Zoo and Disco Zoo. Both offer up a distinctive take on the zoo simulation/management style of gameplay, with Wonder Zoo hailing from the 3D-interface side of the fence whilst Disco Zoo comes at you with some trendy, pixelated artwork and a considerably more light-hearted approach. Both are equally as worthy of your time, but this review will cover a few details about both and conclude which one has more relevance to the world of zoological parks.
Gameplay: One Vs. The Other
Though both games are excellent examples of the zoo-sim genre, there are significant differences that make each of them a unique animal-based experience. Wonder Zoo skirts very close to the theme of poaching whereby a poaching deal goes sour, leaving animals roaming wild – these of course have to be captured and re-homed in the zoo and it's up to you to do so. Unlike many free-to-play sim like games for phones, Wonder Zoo is one of the more funkelicious zoo games involving a mini driving game, the completion of which rewards you with escaped animals. This is instead of simply buying creatures back with in-game currency, or at least quickening the process with the very same.
Disco Zoo's considerably more light-hearted venture involves earning money by keeping your animals awake. The revenue you collect from this goes towards buying new aircraft which are used to transport increasingly exotic and valuable animals to your zoo. You begin with a hot air balloon – this is slow and cumbersome – but soon are able to upgrade to faster planes with better capacity for carrying creatures to your enclosure.
While Wonder Zoo has a driving-based mini-game forming the backbone of its animal-acquisition mechanic, Disco Zoo has a shape-based game. The results are fairly similar for both, with general zoo management making up the rest of the gameplay between actually acquiring the animals.
Graphics and Other Considerations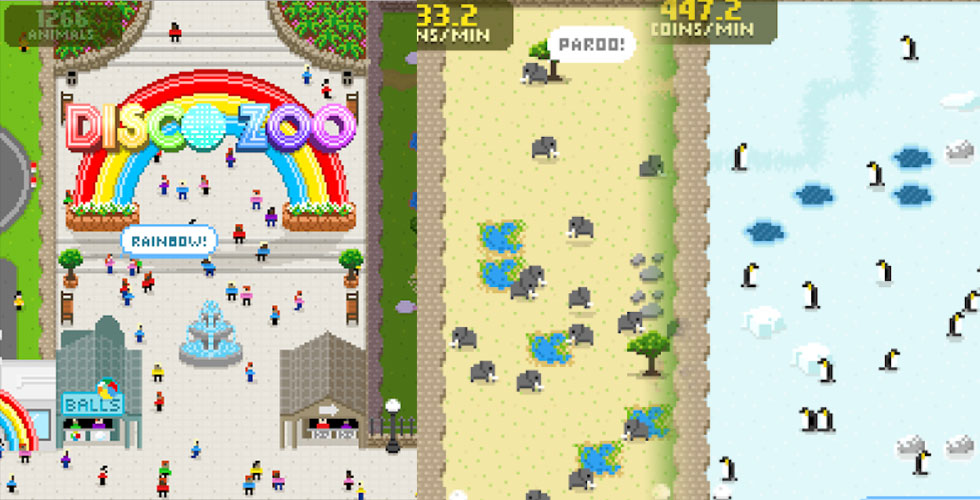 Neither games offer a realistic model of operation based on the running of say, Chester Zoo, but what you do get with both are fun-to-play (as well as free-to-play) zoological experiences. You'll encounter waiting times in Wonder Zoo which can be shortened by spending real-life money on in-game currency, but no energy mechanic exists to get in the way of your enjoyment on a regular basis.
Disco Zoo developer Milkbag Games www.milkbag.me didn't make the gameplay too reliant on in-app purchases either, with nicely-named "Disco Bux" only being required to purchase more moves for the tile game if you're really desperate.
Graphics aren't really that important when you consider the animal-based fun you can have in these games, but in a pinch, it is Disco Zoo that is the most pleasant to look at. Its whimsical fun shines through in its graphics, which are 2D in style and possess a retro look (this is trendy in games apparently). Wonder Zoo has a 3D interface and general look, which is professional but not quite as fun or stylish as that of Disco Zoo or Zoo Story 2.
Download Wonder Zoo
Download Disco Zoo
More Zoo Games
Spin a Zoo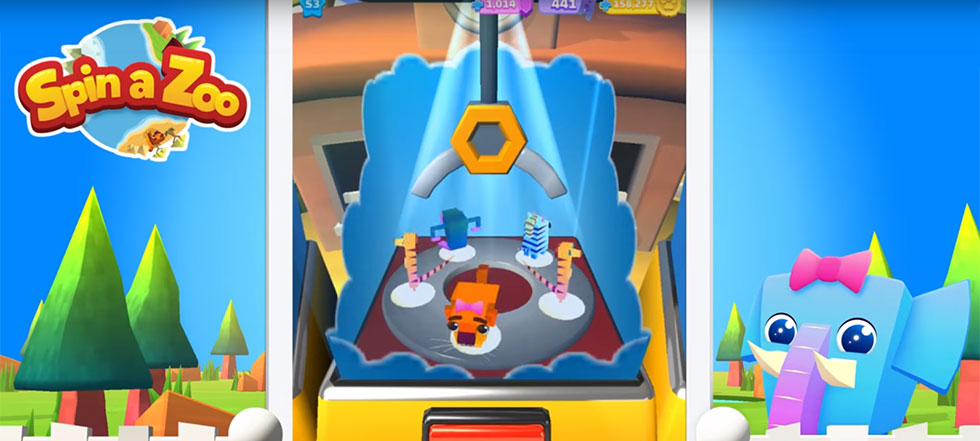 Build a zoo filled with adorable animals, delivered by train! Look after your animals with food and toys, build and manage your zoo. Spin the train, and complete your animal collection.
Zoo Story 2

Zoo Story 2 sticks to a tried and tested formula. Whether that's a good or a bad thing depends entirely on what you are after. It has stunning graphics, a great soundtrack and a reliable system though it really does not innovate anything in the genre.
Idle Tap Zoo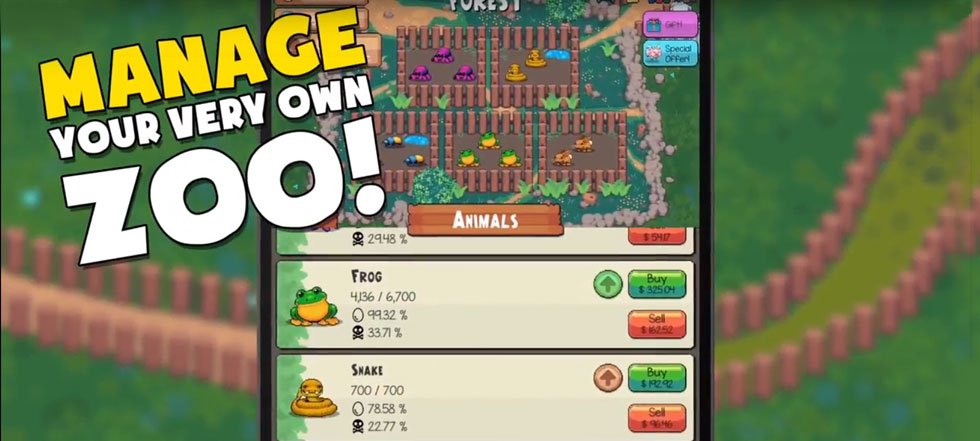 Tap, collect and raise your very own zoo animals in Idle Tap Zoo, the incremental idle zoo clicker game! Raise zoo animals and upgrade them to increase their birth rate and value, then sell them for a profit to expand your business with just a tap! Use your profits to build your own custom zoo!
Dinosaur Zoo Park Games

You might also want to check out our Dino Zoo Park page for games where you develop Jurassic parks and breed dinosaurs.